A late summer, no churn fig leaf ice cream. Fig leaves are super fragrant and make for a tasty ice cream. Top with honey, crumble, or of course, figs.
End of summer, not end of ice cream! Although TBQH, summer was never really here in foggy ass London apart from 2 weeks in July. But sun or not, we ate buckets of fresh fruits and vegetables and that was the best.
People ask us if we're settled in. In some ways, yes—we have a routine, and we've done some traveling. But in other ways, no. I have no idea where the tube lines go without a map. I work a lot. Milk expires the second it hits the expiration date which is really annoying. I don't know where to go for fun ingredients like fig leaves, or who to go with. I don't have a sense of place yet.
Things are opening up, but I'm mourning the fading of a quieter life, the one from lockdown. Returning to a life of calendar invites and expectations is tough, mostly because of the pressure I put on my own self. Once again, I'm two steps behind everything I want to do. I always thought that this feeling was a result of living in San Francisco; now I wonder if it's just a result of life.
After our trip to Greece, I wanted to eat all the fig and honey pastries. Figs aren't in season til late September, but their leaves are in top shape right now. When warmed and steeped, they're super fragrant, coconutty, and emit a sweet fig aftertaste, which is so dreamy!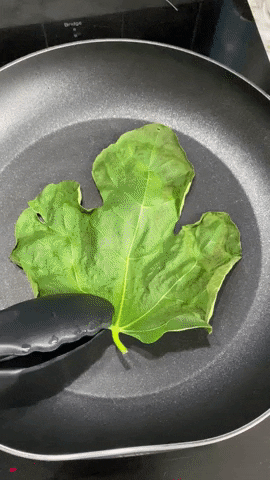 I haven't had fig leaf ice cream in over 10 years—it was nearly always on our late summer menus at the restaurant, where I snuck scoops for myself during break. I don't know why I don't see it on more menus—guess fig leaves aren't as easy for chefs to get, and they don't last long once plucked from the tree. But there's always a way. I went down a rabbit hole and bought some via Ebay from a rando in the English countryside. £1 a leaf sounds reasonable, right?!
Top your no churn fig leaf ice cream with honey, honey crumble (like I did here), or of course, figs! Summer may be leaving, but ice cream is forever.
Recipe notes:
Search for fig leaves at specialty shops or online—obviously I recommend Ebay lol
Don't heat the cream too much or the proteins will denature and you won't be able to whip it. You'll be steeping the leaves for an hour anyways, so no need to go crazy with the heat.